News
The Randells will play!
Scruffy the Cat will play a free warmup show at Cuisine en Locale, 156 Highland Ave. in Somerville, at 9pm on Wednesday, 7/22. I mean, "The Randells" will play this show, slip of the fingers. See you there!
Scruffy playing TT the Bear's Place's grand finale!
See the press release for details!
The Good Goodbye is out!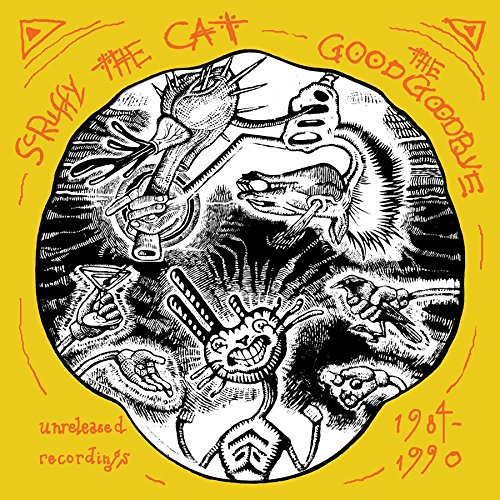 "The Good Goodbye is a marvelous look into the band's lost archives, and the Memphis tracks suggest they had at least one more great album left in them if they'd gotten the record deal they needed at the time." - AMG
Get it now directly from Omnivore, or from Amazon, iTunes, or wherever else you get music!
Praise for the Sony and Omnivore releases!
"It's a great time to be a fan of classic Boston indie rock ... Legacy is releasing a digital anthology of '80's alt rock pioneers Scruffy the Cat." -
Boston Herald
"one of the finest under-the-radar acts of their time." -
American Songwriter
"I can't think of a finer way to pay tribute to Charlie than via the Omnivore compilation. A big tip o' the BLURT hat to the project's organizers." -
Blurt
"Boston college-radio favorites Scruffy the Cat... get their due in the coming months with... the arrival of a new collection of previously unreleased live and studio material." -
Slicing Up Eyeballs
"Once upon a time there was a band called Scruffy the Cat... They rocked, rattled and rolled their way across the US for many a year, making a hearty racket wherever they went... The band's legacy is being honored with not one, but two exciting releases in the coming weeks." -
Twangville
"It was with surprise, elation, and a few 'hell yeah's' thrown in that word came of the impending reissue of the band's albums..." -
No Depression
"Look, I might not know you personally, but you go out now and get these as soon as they hit... Yes, I'm excited, why do you ask?" -
DJ Illuminator
---
In addition to MP3 / iTunes downloads, high resolution formats of "Time Never Forgets - The Anthology ('86 - '88)" are now available! See the following sites for details:
HDTracks
has multiple formats available (AIFF / ALAC / FLAC / WAV) in 96khz /24 bits for $19.98.
Acoustic Sounds
has FLAC format at 96/24 for $24.98.
...and of course, other digital formats from Amazon, Google, iTunes and more are still available for the ridiculously low price of $9.99! Click "past news" below for some links.
---
It's here! All of Scruffy's Relativity output, remastered by the estimable (inestimable? I always get those confused - whichever one means "awesome") Pete Weiss, available through all digital channels as "Time Never Forgets - The Anthology ('86 - '88)." Only $10 for the whole shooting match, for a limited time!
Itunes: https://itunes.apple.com/album/time-never-forgets-anthology/id904524691?v0=9988&ign-mpt=uo%3D1
Amazon: http://www.amazon.com/Time-Never-Forgets-Anthology-86-88/dp/B00MI6OS34
Google: https://play.google.com/store/music/album/Scruffy_The_Cat_Time_Never_Forgets_The_Anthology_8?id=Bruwvmgkwxnqk7ruiasyetw2734
Also on Spotify and other streaming outlets. In fact, if you listen to or buy music digitally, it's probably available wherever you do that! Enjoy!
---
We're very excited to announce that a whole slew of Scruffy music - unavailable for years - will be released in August 2014. Sony Music has remastered all four of the band's official releases (2 LPs and 2 EPs - 38 tracks!) and will be issuing them as Time Never Forgets: The Anthology (86-88). Meanwhile, the good folks at Omnivore Recordings are assembling a collection of previously-unreleased and rare recordings. These two projects should be amazing companion pieces and together will represent "the complete studio works" of the band. We're very happy that the music will again be available for our fans, old and new.